On September 17th, over 150 guests gathered for the FACC's (French American Chamber of Commerce) Technology Knowledge Fair. Aimed at addressing everyday business challenges faced by our members, the event invited 12 exhibitors to present their solutions in artificial intelligence, cyber security, data, retail, live interactive webchats and more. CanalChat was one of the 12 exhibiting companies, represented by Elie Cohen, in charge of marketing and sales in North America.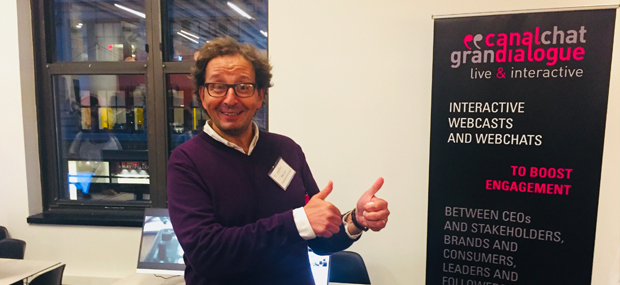 Opening remarks were given by Lanny Cohen, Group Chief Technology and Innovation Officer- Capgemini, Suchit Jain- VP of Strategy and Business Development- Dassault Systemes SolidWorks and Mike Rhodes of Citrin Cooperman.
The FACC Technology Committee- formed in January of 2018, contributed to the concept and organization of this event. Committee members include Jabril Bensedrine- Triana Group, Isabelle Estebe- Dassault Systemes, Catherine Barba- Win Forum, Caroline Winter- La French Tech NYC, Yoni Elmalem- Inbox America, Phil Berdugo- Wellbots, Philippe Andres- B2In Consulting, Matthieu Laming- Adev Materials & FACC staff liason Jeremie Sautter.
This event was made possible thanks to the generous sponsorship of Citrin Cooperman, Dassault Systemes, event partners Capgemini, La French Tech and Berkeley Haas.