Live & interactive text conversation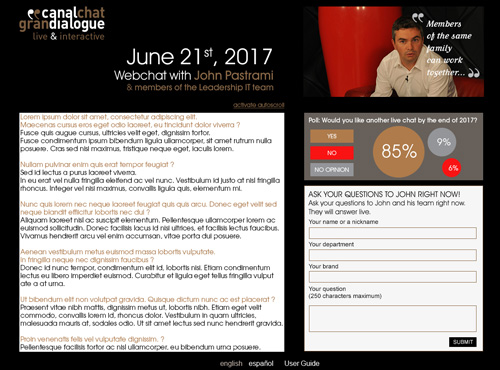 We design and produce moderated « one-to-many » live text conversations. A webchat is a unique opportunity for a CEO, a leader or an expert, to answer questions from an audience during a one-hour session on a secured platform.
A webchat event takes place in 3 stages :
– BEFORE THE WEBCHAT : Announcement of the rendez-vous
Users can ask questions in advance and vote for the questions they wish to see answered.
– DURING THE WEBCHAT : Live Q&A session
Users ask questions live. Once selected at moderation, a question is published on the webchat interface along with the guest's corresponding answer.
– AFTER THE WEBCHAT :  Distribution of the edited conversation
The transcription of all Q&A is available online.
Services provided for each webchat :
CUSTOMIZATION OF THE EVENT
• Custom templates & skins, graphic design in line with your corporate style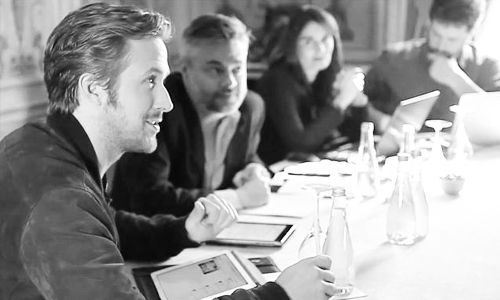 • Hosting, development & integration of our user-friendly webchat platform
• Editorial guidance to organise your live conversation
MODERATION OF ALL INPUTS
• Full moderation of questions asked by the audience in order to filter and prioritize the most relevant ones. An expert from our team runs the moderation tool in collaboration with you.
FACILITATION OF THE WEBCHAT
• Live re-transcription of the guest's answers
• Publication of live pictures
• Media management (slideshow, polls, etc.)
DEDICATED GUIDANCE AND SPECIFIC REPORT
• On-site support & personal project management
• Complete and edited transcript of the conversation
• Detailed statistical assessment of your event with KPI
Tailor your event with a set of varied features !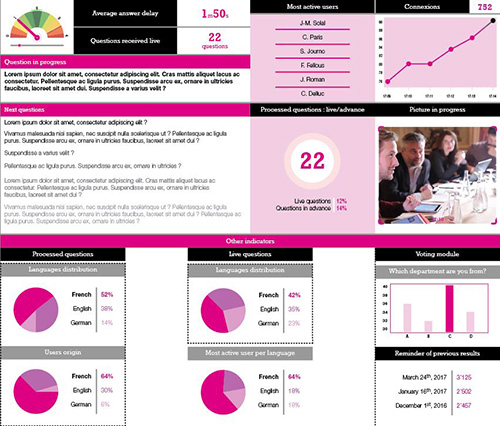 ENGAGEMENT
• Votes on questions asked in advance and during the live session
• Live and post-event survey & polls
• Integration of the conversation on social networks (Twitter, Facebook, etc.)
MEDIA
• Short video to promote the event
• Highlights of the event in a video format
• Data, pull quotes, live quotes, etc.
DISTRIBUTION
• Multilingual versions : real-time translation
• Responsive Web Design
• Open integration on any corporate platform of our dialogue tool
SECURITY AND ACCESSIBILITY
• Technical architecture CDN sized to accommodate large audiences
• Compliance and adaptation to the company network (if needed)
• Authentication : IP-based restrictions to access the dialogue and the live interaction protocol
EDITORIAL ASSISTANCE
• Dry run : rehearsal to prepare for the live event
• Dashboard : analytics to monitor your event during the live session
• Semantic study
• Guest advising on this unique online interactive format