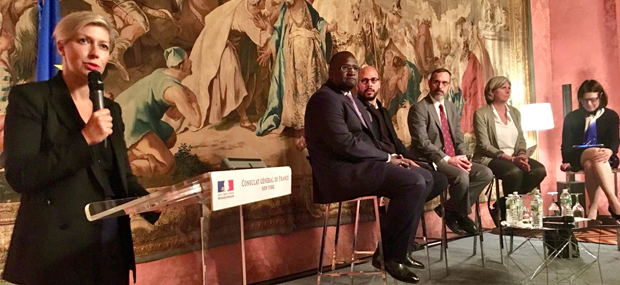 Pandemics : What are Global Health Leaders doing to Combat the next Outbreak ? This was the theme of the last 934 conference as part of a series of meetings organized by the Consulate General of France in New York.
The event was organized in partnership with Canalchat, which broadcast the conference live, and managed interactivity. Thus, Thursday, October 25, at 18:30 (New York time), on-site and remote attendees were able to ask questions to renowned speakers invited for the occasion. Among them, the Pasteur Foundation – partner of the conference – was well represented by Kathleen Victoir of the Institut Pasteur in the United States, and Amadou Alpha Sall of the Institut Pasteur Dakar. They were accompanied by Christopher Perdue of the US Public Health Service, David Blazes of the Bill and Melinda Gates Foundation, director, producer, journalist and writer Janet Tobias, and Northan Hurtado of Doctors Without Borders.
Our #934Conference on pandemics is starting. Follow the panel live on our Facebook page and ask your questions at https://t.co/UhpXhoCMjv @institutpasteur @Canalchat @NYTHealth pic.twitter.com/vF6xjgQso8

— French Consulate NY (@ConsulFranceNYC) 25 octobre 2018
This collaboration with the Consulate was the second one in 2018, Canalchat Grandialogue broadcasted in September a conference about immigration law.